Family Comedy Club makes History
7:00 PM del Sábado 26 de Junio
Repeats every week on Saturday at 7:00 PM, through August 28.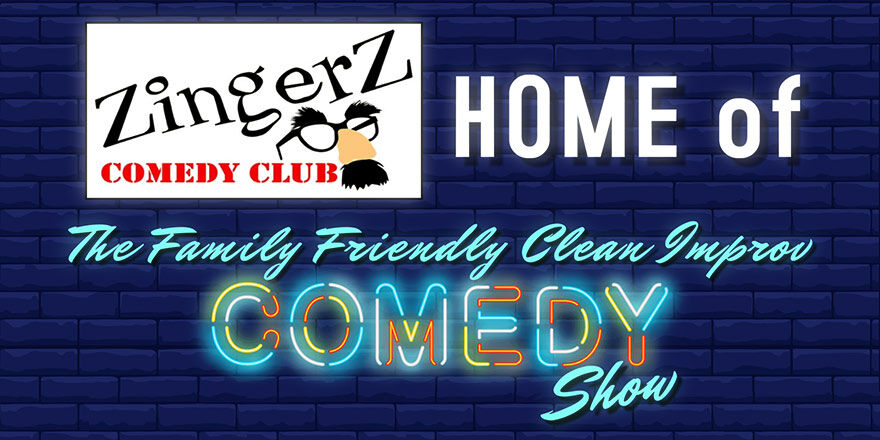 "We are thrilled to be able to do live shows again and help provide people with some much needed laughs; especially after the year we've all just experienced" Roy Allen, owner of ZingerZ Comedy Club said. "I'm also excited about our new ticketing and concession offerings, which will enhance each of our guest's comedy-going experience here at ZingerZ."
ZingerZ Comedy Club will officially re-open for their first post-pandemic in-person Clean Improv Comedy Show on Saturday, March 13th at 6:30pm (show starts at 7pm). ZingerZ has been providing laughs to people of all ages for over five years now (the last year through their weekly "Live @ Five" free virtual shows), with their 2021 re-opening marking their sixth year of bringing family friendly laughs to the people of North Texas.

As part of their re-opening, ZingerZ' ticket prices now include "2 concession items of your choice" to be enjoyed during the show. For those who want to Laugh On & Snack On, there's ZingerZ' new UNLIMITED CONCESSIONS PASS. This "first of its kind" add-on allows guests to enjoy an unlimited number of concessions (3 items at a time) during the show.

"Although the lifting of the mask mandate is what's allowing us the ability to re-open, there will still be many 'Laugh Safe' policies in place to make sure everyone can have a fun and safe experience here at ZingerZ" stated Roy Allen. "Masks will not be required to attend the show, however our guests are more than welcome to wear one during their visit if they would like." Mr. Allen also noted that "Seating levels will also remain below 100% capacity so our guests will not be shoulder-to-shoulder". Additional 'Laugh Safe' Policies can be found on their website at www.ZingerZComedyClub.com.

ZingerZ Comedy Club is located at 3301 W. Pioneer Pkwy., Arlington (Pantego) TX, inside the North Lake Centre shopping center (next to Leap of Faith Dance). Shows take place each Saturday at 7:00pm.

Location:
ZingerZ Comedy Club
3301 W. Pioneer Parkway
Arlington (Pantego), TX 76013
Google Map
(817) 609-1715