PushPay Summit — May 22-23 — Dallas, TX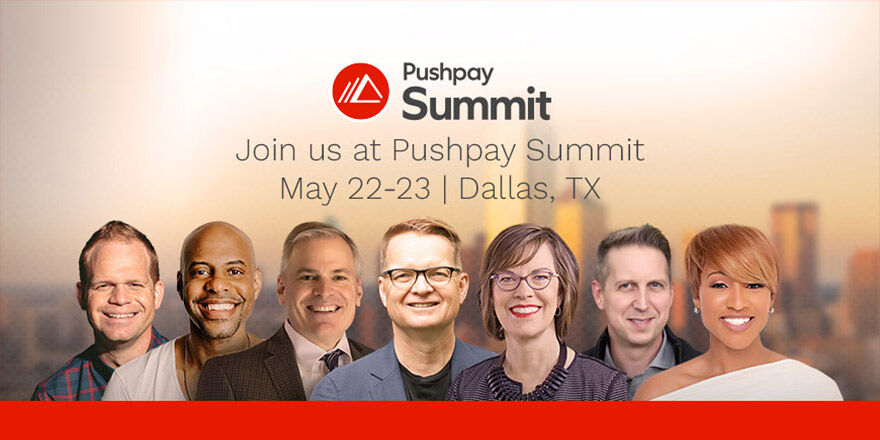 9:00 AM del Miércoles 22 de Mayo 2019 - 4:30 PM del Jueves 23 de Mayo 2019
Hear From Our Strategic Speakers and Learn From the Best
Not your standard church conference — let's get tactical. Your background is in faith, not always business. Our inspirational speakers will do more than cast vision, they'll give you tools you can use your first week home.
What Makes PushPay Summit Different
USEABLE TACTICS
Sure, you might walk away from Summit excited about what you learned. But more importantly, you'll walk away with a MacBook full of ideas your church can start using this Sunday. Don't settle for being inspired: Get equipped.
PRACTICAL KEYNOTES
Learn useable ministry lessons from a diverse set of leaders, men and women who have excelled in ministry and business (and can teach you how to do the same).
MEANINGFUL NETWORKING
Network with peers who have similar job roles at churches of a similar size. Compare notes and exchange contact info as you trade best practices and practical advice.
WHOLE TEAM CONTENT
Start 2019 the right way: By aligning your entire team around the right goals and the right tactics to accomplish them. With content focused around leadership, operations, communications, technology, and finance, there's something for everyone on your staff.
It's not about flashy followers on Twitter or promoting the next campus launch — ministry matters at this conference and we're here to share stories of success from pastors and staff doing the work, every day of the week.
Location:
Gateway Church — Dallas
12123 Hillcrest Road
Dallas, TX 75230
Google Map
(469) 801-7250